Today I'd like to share some of my favorite powerlifting gear. Now, I know what you're thinking — that this is just going to be a big list of products I'm advertising in exchange for kickbacks.
Wrong.
The truth is, I hate modern marketing, and think it is a serious societal problem that often goes overlooked. So, you won't find any affiliate links or discount codes here (although I have linked to the products I recommend for easier browsing). That way, you can trust that I genuinely believe in and support these companies without any ulterior motives.
That said, if you'd like to give me kickbacks, well, I won't complain. I've also linked to affiliate products when available, and those are clearly indicated as such below. I think that's a fair tradeoff, but let me know what you think. If most people disagree, I will happily remove them.
What I Look For
The first thing you need to know is what I consider a trustworthy product or company. For me, that comes down to three things.
Quality. Quality trumps everything. The product must be the most effective option (for me) available on the market or I won't consider it, period. That said, in many instances, there are multiple equally effective options, and that's where the next two factors come in.
Sustainability. While I am a bit of a tree-hugging hippie, that's not what sustainability is about for me. Instead, I'm looking at a couple of different factors. Sure, environmental impact is one of them, but more important to me are product durability and marketing strategies. Durability is an obvious one: you want to be able to rely on your tools, not worry that (for instance) your belt lever is going to snap off halfway through a PR squat attempt. Marketing is a bit less obvious, and it goes back to my skepticism of the practice as it's implemented in the mainstream. If a company is all about fancy Photoshopped pictures that paint unrealistic images of bodily perfection, if it relies heavily on paid advertising, uses deceptive copy, or anything along those lines, I'm simply not interested in supporting it.
Community connection. Again, a little bit of tree-hugging hippie in here, but to me, a community connection is essential for building trust. Now, admittedly, "community" is hard to define nowadays, and I'm okay with companies that essentially define their own communities, as long as they justify a reason for doing so. I think this one is easier to explain by example, so check out my take on Datsusara and Pioneer below.
My Favorite Companies and Products
Datsusara
Datsusara started out as a company catering to the martial arts crowd, but they've since diversified, and I'm grateful for that. The big takeaway you need to know about DS is that all their products are made from hemp. This obviously tackles my "sustainability" requirement pretty well all on its own, but help has a lot of performance benefits as well, especially for gymware. It's breathable, lightweight, and bacteria- and odor-resistance — perfect for your nasty, sweaty-ass knee sleeves and training through dust, blood, chalk, and tears.
More important to me are the values Datsusara espouses. Their community is large: anyone pursuing a healthy, balanced lifestyle qualifies. And DS detests consumerism. In fact, they close shop over Black Friday weekend in an attempt to discourage the practice altogether, which speaks volumes in and of itself. They market primarily through grassroots channels and information sharing, and it's obvious that the company's employees believe in its mission. Just read founder Chris Odell's story here — he explains it better than I ever could.
DS gear I recommend:
Gear Bag Mini (the perfect size for a raw powerlifter — equipped lifters probably want to move up to the bigger Core)
Pioneer Fitness
Y'all already know I love Pioneer. No other powerlifting company (to my knowledge) offers innovative products, full customization, and a lifetime warranty on all its products. But again, more importantly, Pioneer is fully invested in the community. Heck, check out their tag line: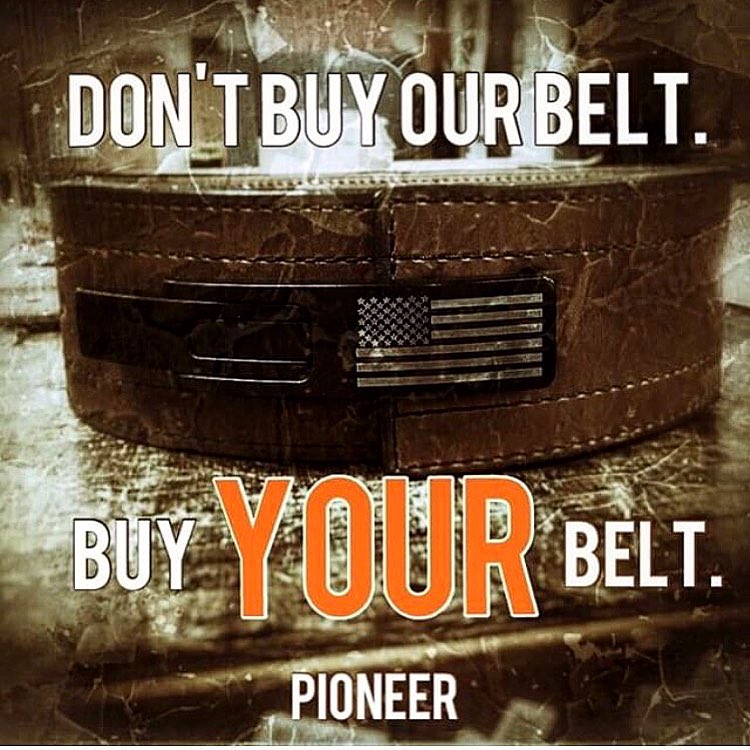 It's obvious that Matt (the owner) values his customers over his profits, and I really respect that. Perhaps the best example is the Tribute meet that Matt founded and supports financially together with USPA Texas — the world's only event that's truly for the lifters.
Pioneer products I recommend:
Pioneer Cut 13 millimeter powerlifting belt
Kabuki Strength
First, full disclaimer: Chris Duffin is a friend and mentor of mine, so I do have a little bias in this regard. But I believe it's a fair bias; while the Kabuki products are high-priced, they offer unmatched quality and innovation. And I know for a fact just how invested Chris is personally in the manufacturing process — and I don't mean financially invested. The dude genuinely loves this stuff, and it shows in his product's quality.
And as far as the community connection goes, again, I'm going to refer to the Kabuki mission: to make the world a better place through strength. Now, I would argue that Kabuki as a whole is more concerned with movement than strength itself, but that's nitpicking. The important thing: it's an inclusive, altruistic community based on individual progress, support for fellow members, and long-term sustainability.
My favorite Kabuki products:
Other Stuff I Love
Obviously, more than three companies fit my bill — these are just the three with which I have the strongest connections. Here are some other great products I recommend for powerlifters of all levels:
Skinners Footware: the best barefoot "shoe" I've found. The grip, ground feel, and quality are all leaps and bounds above competitors like Xero and Vevo.
Extract Labs: Inflammation is the enemy of the powerlifter. CBD is all-natural, safe, legal, and fights inflammation. Extract Labs supports US military veterans and sells high-quality CBD products made in 'Murica. What else do you need to know?
Combat Flip Flops: I wear flip flops year round, and let me tell you, nothing beats the quality of Combat Flops (not even the legendary Rainbows). Plus, their entire mission revolves around ending war (particularly in the Middle East). Again: what more could you ask for?
Buffalo Beard Company: I like beards. I love my beard. I want to take care of my beard. Buffalo Beard Company is owned by one of my favorite lifters, Luigi Fagiani, and sells only high-quality American products. I'm sold.
Should You Buy These Things?
Uh-oh… here comes the sales pitch, right? Absolutely not. I don't do sales pitches.
I do highly encourage you to check out these companies and products, of course — but only try them out if you genuinely believe they will work for you. Just because they fit my values and my needs doesn't automatically make them applicable to yours. Therefore, you'll have to be a smart consumer, use the information you have available, and make a judgement call as to whether these are worth investing in yourself.
That said, if you have any questions about any of the products or companies I mentioned above, don't hesitate to drop me a line, and I'll do my best to help!
No matter what, remember to #supportthosewhosupportyou, to Think Strong, and to Train Hard!